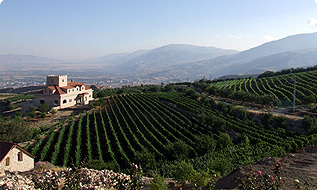 In order to make the best from our vineyard, grapes are hand-picked at their optimum ripeness.
In the laboratory of Dr. El Khoury, a biologist by profession, analyses are made to monitor the maturity and evolution of phenolic compounds both before and during the winemaking process. This process is based on the pursuit of quality using innovative and modern technologies. The cellar is designed to work using just gravity in order to limit the trituration of grapes. The tanks are stainless steel and equipped with a temperature control system to ensure optimum and qualitative control of the vinification.
The white wines are vinified in order to reach their full aromatic potential at low temperature. Red winemaking is different with both the fermentation time and the character of the sought-after wines. Upon arrival in the winery, the red grapes are de-stemmed and crushed, then put into vats to begin the maceration. The whites, instead, are pressed directly then sent to the fermentation tanks. Each parcel is vinified separately to express all the characteristics of the vineyard.
The cellar is 12 meters underground and is capable of raising the wine under ideal natural conditions of both temperature and humidity. Red wines are aged in French oak barrels for a period ranging from 12 to 25 months depending on the vintage. Regular tasting checks are made every two to three months.