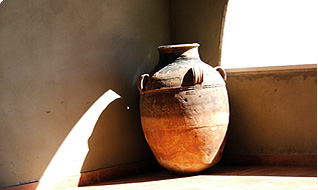 Our wines
Introduction
Our white wine is a blend of three grape varieties: Chardonnay Riesling and Gewürztraminer. Each variety brings a characteristic of its own. This allows us to obtain a wine with a very wide range of aromas and strong freshness.
The natural sweet wine made exclusively from the Pinot Gris gives a wine with aromas of peach, apricot and pear.
Our red wines are also blended and are rich in color, structured, complex and fruity. They represent the bulk of our production. Made from just "noble" grape varieties, our grapes undergo fermentation maceration of approximately one month followed by aging in oak barrels.
Winter evenings are traditionally for the distillation of the Lebanese aniseed drink: Arak. It is the result of a triple distillation of grape using only a copper tank. It is in the third distillation that anise grain is added giving the Arak that characteristic taste. The variety predominantly used for Arak is the Obeidi.
Our brandies
Fruit trees surrounding the vineyard are intended for the production of various eaux-de-vie (meaning schnapps): plum, cherry, and more plum… This is in the pure tradition of the Alsace region, as attested by Mrs. El Khoury, a native to that region.
Local products
We also produce small batches of rosewater and orange blossom from the vineyard's surrounding plantations.